Description
Personalized Beer Mugs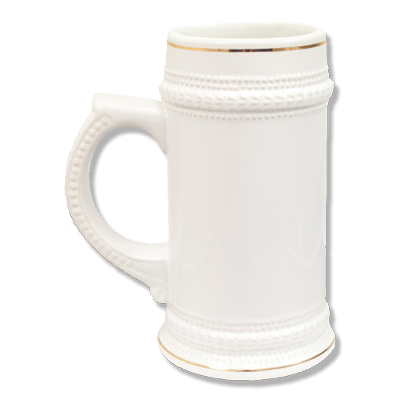 These elegant 22oz personalized beer mugs weigh a heavy 2 pounds. With the unique design, not all mug printers can offer these. These 22-ounce white w/gold trim beer mugs are also available in a blue/grey color scheme.
This large beer mug can be printed with photos, text or your logo, or any combination for those special personalized gifts. Print area on these beer steins covers 3.5 inches high by 8 inches wide from handle to handle.
This beer mug has been a favorite for promoting a low to no cost customer loyalty tool with a little creative planning. Ideas to help build customer loyalty for your bar or pub could be to have your logo printed on one side and the other side personalized for your customer. We will custom-create an ordering process to fit your needs so there is no need to bulk purchase your beer mugs. We will produce your beer mugs on an "as need" basis and many of your customers would be more than willing to purchase their own personalized beer mug bearing your logo. You may then choose to keep all personalized beer mug on display in your pub for customer use each time they return, or you may opt to let your customers take their beer mugs home and perhaps offer a special VIP incentive if they bring their beer mug in to enjoy their favorite brew. Your customers will also most surely show off their beer mug to friends and encourage them to visit your pub or bar and perhaps get their own personalized beer mug to help grow your customer base.
Custom print our beer steins on one side, both sides or all the way around for a full wrap. Using our leading-edge dye-sublimation print technology, your prints will look just as bright and vibrant many years down the road as they will when they are new. Dishwasher safe so you won't ever need to be concerned about everyday use.
Custom printed to order with your image and/or text. No minimums to order.