Description
Personalized Tankard Mug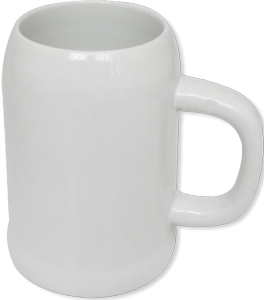 Grab your fist a-hold of this 22oz German personalized tankard mug, weighing in at over one and a half pounds empty.
Makes for a great personalized award stein for your local dart tournament printed with your league logo and the recipient's name!
Own a pub or Tavern? What a great way to build customer loyalty by hosting a "Mug Club" and making these Tankard available for printed with your pub logo and then personalized for the individual customer. We have several pubs currently using our steins for a little to no cost tool to build customer loyalty.
Feel free to contact us for some mug club ideas or personalizing for an award stein.
Whether it be just a single Tankard custom printed for Dad or several hundred for an Oktoberfest event, we are here to help.
Even volume orders of these 22oz Beer Tankards can be individually personalized Free of charge!
Have us custom print your Tankard on one side, both sides or all the way around to create a full wrap design. Custom printed to order with your image/photo and/or text.