Description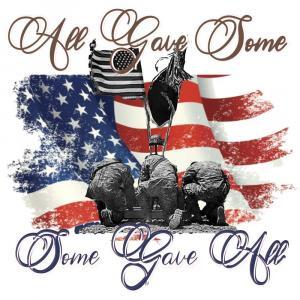 Add a touch of patriotism to your morning routine with our collection of mugs featuring inspiring patriotism quotes. Show your American pride with our patriotic design, showcasing the phrase "All Gave Some, Some Gave All". This design features an American flag with a soldier's helmet and rifle in the foreground, serving as a powerful reminder of the brave men and women who sacrificed their lives for our freedom.
Available in various sizes, including a 16oz or 18oz beer stein, 16oz root beer mug, 11oz cup, or a 15oz mug, you can choose the perfect size for your beverage preferences.
Make it Special!
What sets our mugs apart is the ability to personalize them even further by adding a photo or text of your choice. This allows you to create a truly unique and heartfelt gift to express your love and appreciation for those who have served our country.
Whether you're looking to give a thoughtful gift or want to display your support for the military, our patriotism quote mugs are the perfect choice. It's a simple yet impactful way to honor the sacrifices made by our heroes. With every sip, you'll be reminded of the courage and dedication exhibited by those who protect our nation.
Sizes to Fit Your Style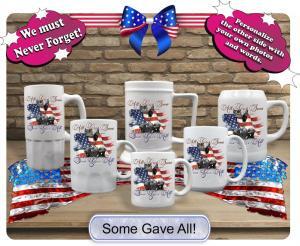 To ensure that every aspect of your purchase embodies patriotism, we offer this print on a range of mugs and steins that have been imported.
Looking for Made in USA?
If you're looking for an authentic 100% patriotic experience, we proudly present two options that are 100% Made in USA for these American Patriotic Quotes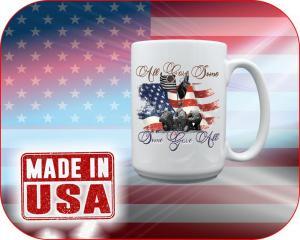 These mugs are manufactured by HF Coors in Arizona, USA, ensuring that your purchase supports small businesses that contribute to the greatness of our nation.
Thank you for considering our patriotism quote mugs and for your interest in supporting small businesses that help preserve the spirit of the Land of the Free.